Chandigarh, Puducherry have higher Covid-19 weekly positivity rate than the national average.
With the number of daily infections, deaths coming down, Covid-19 situation in India in comparison with the US, the UK, Brazil is looking up, but the positivity rate in eight states/UTs is worrying, health secretary Rajesh Bhushan said on Thursday. "It is definitely worrying that the weekly positivity rate in these eight states and union territories are more than the national positivity rate. We are in contact touch with the administrations and are sending national team," the secretary said.
Weekly positivity rate is the average percentage of people testing positive in a week. India has a weekly positivity rate of 1.82 per cent.
List of states/UTs with a higher positivity rate than the national rate
Kerala (11.20%)
Chhattisgarh (6.20%)
Maharashtra (4.70%)
Goa (4.40%)
Nagaland (3.60%)
Ladakh(2.90%)
Puducherry (2.60%)
Chandigarh (2.10%)
Interestingly, apart from Kerala and Maharashtra, none of these states ever became epic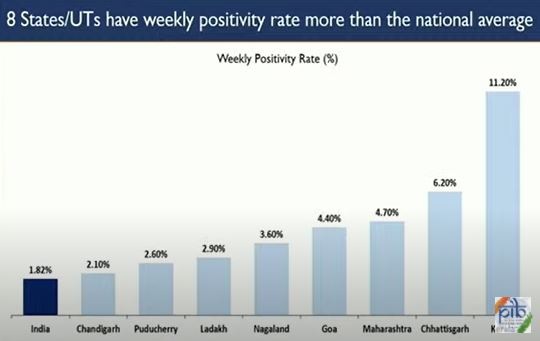 entre of the infection. But the positivity rate implies that the spread of the infection is not being contained.
India at present has only 1.55 lakh active Covid-19 cases. Kerala and Maharashtra are the only two states with more than 35,000 active cases — Kerala (69.365), Maharashtra (38,762).
Thank you for subscribing to our daily newsletter.
Close
Follow @ Facebook

Follow @ Twitter

Follow @ Telegram

Updates on Whatsapp – Coming Soon